Micro GC, Micro GC System, μ GC, μ Gas Chromatograph, μ TCD, μ TCD GC, μTCD, μTCD detector, Multi channel GC, Micro TCD GC, Micro TCD, micro-machined TCD detector, TCD, TCD detector, Thermal conductivity Detector, channel GC, micro-machined GC
---
Micro-TCD GC - Lightweight, Versatile & Reliable!
---
Micro-TCD GC - Features
Rugged Micro-TCD Gas Chromatograph

1 to 4 GC Column Oven/Micro-TCD Channels

2 Micro-machined Thermal Conductivity Detectors (TCD) per Channel

Designed for Unattended Continuous Operation

Most analyses in less than 1 min

Integrated 3-Stream Selector

Automated Calibrations

Fast & Accurate with Low Maintenance

Free standing operation with on-board GC Methods

Built-in Instrument Diagnostics

Easy Chromatography Data System

Temperature Control to 0.001°C

Pressure Control to 0.001 kPa

Ultra Compact and Lightweight (20 X 15 X 10 cm)

Approximately 8 kg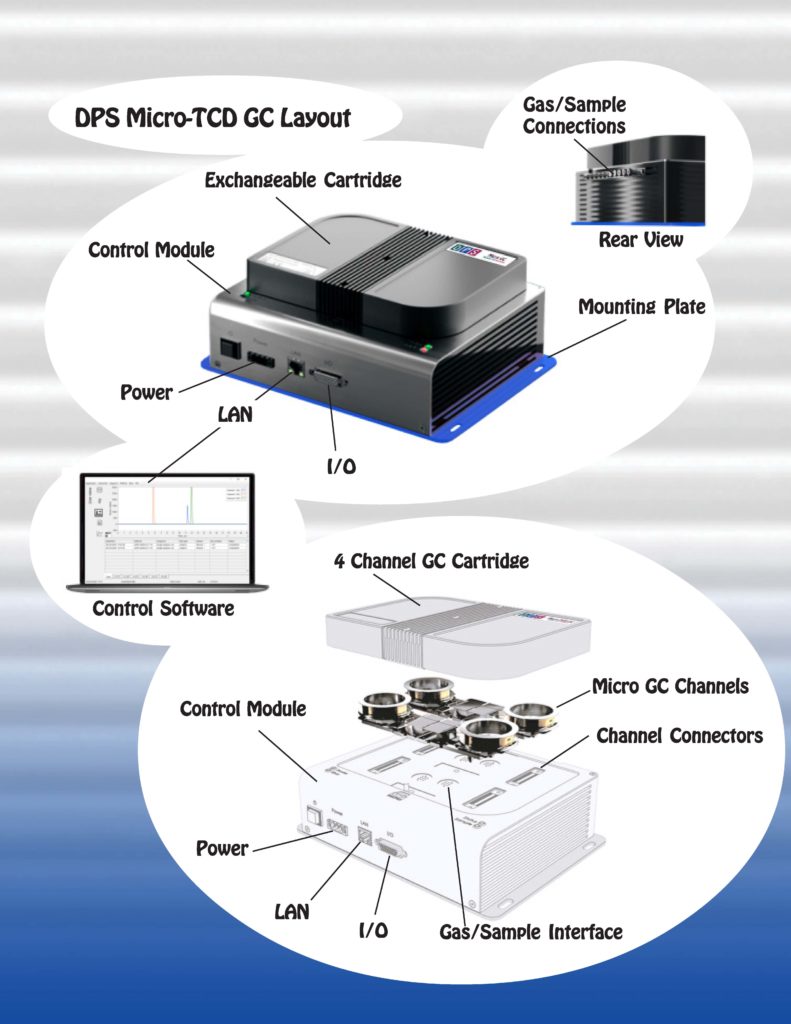 Micro-TCD GC –
The small, rugged, and versatile DPS Micro-TCD Gas Chromatography Systems, feature a micro-machined Thermal Conductivity Detector (TCD). The DPS Micro-TCD GC can pack 1 to 4 Column Oven/Micro-TCD Channels inside the same Exchangeable cartridge. Each Channel contains a Column Oven, Pre-Column, Analytical Column and 2 Micro-TCD detectors.
In addition, each Channel also connects Injection and Backflush valves offering unattended operation and super-fast analysis times. A built-in Stream Selector automatically loads each sample stream, or calibration gas. Most analyses are completed in seconds and one sample can be injected right after another for Continuous Monitoring applications.
The DPS Micro-TCD GC Systems are a new kind of GC. Offering all of the separation power of our conventional GC System in an ultra-small package, allowing on-line, at-line, or laboratory analyses to be performed almost anywhere. And with 4 Channel capability, even complex analyses can be performed in seconds.
---
Micro-TCD GC Channel –
Each channel is independent and self-contained. Once mounted inside the cartridge it connects to the control module to provide all of the capabilities of a complete GC system.  Including analytical column, pre-column, GC oven, 2 TCD detectors, sample injector, back-flush valve and more.
---
Computer & Chromatography Software –
By connecting a computer you can access the chromatography and control software to edit methods and sequences. These are stored inside the GC, so that when the computer is disconnected the Micro-TCD GC runs unattended sending results out the I/O connections. The data is stored inside the GC as well, so once you connect a computer again you can access it all.
---
DPS Micro-TCD GC - Specifications
Micro GC Channels:
1 – 4 Micro GC Channels in an Exchangeable Cartridge

Each GC Channel contains GC Oven, Analytical Column,
Pre-Column, 2 Micro-TCD Detectors, Electronic & Gas
Connectors.
Software/GC Control Interface:
1 – 4 Micro GC Channels in an Exchangeable Cartridge

Enter and store GC Methods via Computer connection

 GC Methods run without Computer connection

Safety Limits on all user entered parameters

Communications: RS232, RS485, Ethernet, Digital I/O

Protocols: Modbus, TCP

Sequencing for Sampling, Injection, Backflush, etc.

Memory Storage – up to 256Gb

Control for Carrier Gas(s)

Control for Valves (Injection, Backflush, Sample)

Schedule Auto-calibration

Control for Stream Selection

Digital Signal Outputs for each Detector

Universal voltage input (85 – 240 Vac, 50-60Hz)

Power Supply – (20 – 28 Vdc)

Power Consumption – 75 Watts maximum
Control Module:
Moisture – (5 to 95 %)

Operating Temperature – (5 to 55 oC)

Storage Temperature – (-20 to 60 oC)

Dimensions – 20 X 15 X 10 cm

Weight – 8 Kg
Detectors:
1 – 4 Micro-TCD Detectors Installed

2 Micro-TCD´s per Channel (8 total)

Detection Limits (500ppb – 100%)

150 oC Temperature Limit with 0.1 oC set-point resolution
Injectors:
1 Micro-machined Injector per Channel

Sequence Controlled Injection Time
Columns:
1 Pre-Column with Backflush per Channel

1 Analytical Column

Isothermal Operation

Repeatability – < 0.05% RSD

Cycle Time (Typical) – 15 – 60 sec

Optional Temperature Program
Gas/Sampling:
Gas Ports – 1/16″

Carrier – Helium, Argon, Nitrogen, or Hydrogen

Carrier Input Pressure – 450 kPa

Carrier Consumption (Typical) – 15 mls/min

Sampling – Pressurized or by internal Vacuum Pump

3 Sample Streams (more optional)
---